Facilities introduction
The time when "the relaxation" is comfortable
I made a large communal bath of a space, the space that could relax to the full including a calm Japanese-style guest room form.
I prepare a grand hall and the meeting room to be able to use for the diversity including various banquets and the meeting.
Lobby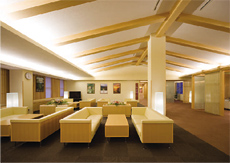 A calm atmosphere, the facilities in a certain space full hall. It is arrived, and, please heal fatigue between a reception desk. Of course it is available as a meeting and a place of the story staying in.
The front desk
It becomes the front desk escorting the trip of all of you. Including the question of the neighborhood facilities sightseeing, please talk willingly. The person using one-day hot water accepts it until from 10:00 to 21:00.
Souvenir corner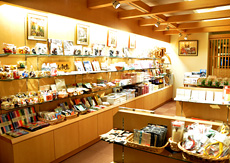 Please use it for search for souvenir to the family becoming waiting for the return of all of you and a close person. Of course, please drop in because the thing becoming the souvenir of the trip of the visitor is displayed.
Dining room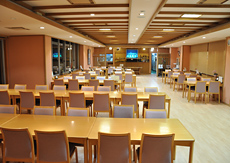 The dining room of the Goka mountain cottage prepares the chair seat which can relax relaxedly and is good to dining together with friendly.
Breakfast / from 7:00 to 8:30 (the winter season:) From 7:30 to 8:30) dinner / from 18:00 to 20:30 You can spend a time had enough until a heart by seasonal good luck of Mt. Goka.
Rest room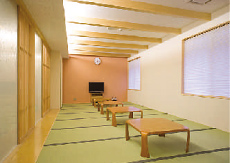 It is the rest room which is available towards the one-day bathing. Because it becomes if with a tatami mat floor, I stretch out a foot, and, please do it relaxedly.
Banquet room (Grand hall)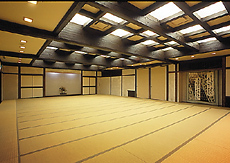 A grand hall of 100 tatamis in area belonging to a stage. It is available for a banquet and a large-scale meeting.
Until banquet time 21:30 Use time two hours 30 minutes (30 minutes before RAS toe order)
※A reservation is necessary for the use. Please talk before this museum use.
Meeting room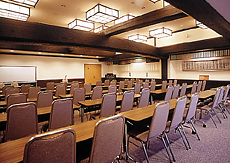 As an off site meeting after you enjoy a workshop, Nature from a small meeting, please use it depending on the demand of the visitor until the great meeting of 80 scales. Until the social gatherings such as the staying after the meeting, the dinner party, I support it fully at Goka mountain cottage.
※A reservation is necessary for the use. Please talk before this museum use.
Guide map